If you have a small house or small rooms, then try these DIY projects to maximize small spaces and sell your home! There are certain ways you can add a lot more profit to smaller properties. These DIY projects are super easy and cost efficient. Plus, you sell your home for more with these easy fix ups.
Painting Your Walls, Ceilings and Kitchen Cabinetry
The colour inside of your home affects how big the space feels. When potential buyers enter your home, you want to make it feel big for them. So investing a bit of time and money into painting your home makes a difference. Painting your walls, ceilings or kitchen cabinetry is something you can do as a weekend project especially if you have a smaller space.
Paint Your Walls Light and Bright
The paint colour you choose for your walls is very important. Bright light coloured walls really open up a room and make it look 10 times bigger. On the other hand, a dark or earthy dark tone makes a room look very small. So if you are trying to maximize the space in your home, then opt for a nice light and bright colour. Many buyers are looking for those light, bright, white colours. Especially in smaller properties!
Make Your Ceiling Colour Different
Never paint your ceiling color the same color as the walls. In a small property, it is best to paint the ceiling bright white, because it gives it a much more taller ceiling. So do not paint the color of your ceilings, the same color as your walls, because it makes it look closed in and cut off. And you don't want that feeling for any buyer that's coming through your house.
Light Coloured Kitchen Cabinetry
In a small kitchen, one of the biggest mistakes is to have dark cabinetry. Instead of trying to remove all your cabinetry and do a whole big DIY Projects update which would cost you way more money, opt to paint it yourself. Rent a paint sprayer and spray paint all your cabinet doors one by one. You'll need to take each cabinet off to spray paint it. This may be more work than using a roller or a paintbrush, however the pay off will be much better in the results. Using a roller or a paintbrush might make it look cheap in the end. Buyers know you did it that way.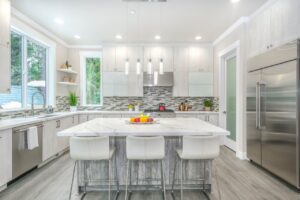 Install Lights
Lighting in your home is key to opening up the space, especially if you have tiny windows. So you're going to need as many lights as possible without adding a lot of things on the floor or a lot of wires showing throughout the house. The best way to handle this is to put lights in the ceiling. If there is a dark spot, add a light, the more light the brighter looks, the bigger it feels.
One of the best ways to do this is a small space is to use a puck light. It is is a small led light and it adds a lot of light which will look really great in a small space. They are about $20 to $25 and you can add a bunch of those throughout the house.
So you go ahead and put as many puck lights as you can throughout the house. It costs you let's say a minimum of $500. Your return on investment is going to be as little as a thousand dollars, but as much as three to $5,000. So that is a wise investment. You can do yourself. It's going to take a little sweat equity and a little bit of time. But if you have a little bit electrical sense, you can do this and make sure you follow all the safety standards.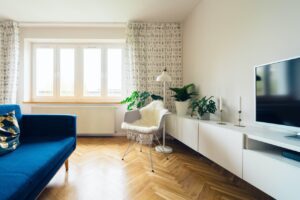 Declutter Your Home
Decluttering your home is one of the best ways to make a tiny room look much bigger. So get to work in cleaning up your rooms and living areas.
If you have your house on the market, and it's just say the master bedroom, you want to make that room look as big as possible. You're going to want to put your master bed in and your two bedside tables and then possibly two small lights, not really tall lights. You want them to be a little bit shorter and smaller scale. And if you can live without your dresser it will make that room look a lot bigger. They won't even notice that you have the dresser gone, and it will make your house sell a lot faster.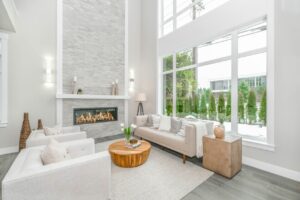 Staging Tips to Open Up Your Space
Once you have decluttered your space, you can now think about staging your home for sale. Staging plays a key role in selling your home for buyers walking through your home for a showing. Here are a few tips for staging your home below.
Sheer Curtains from Floor to Ceiling
Sheer curtains let the light come through, adding a bit of brightness into your home. You also want to use curtains that go from all the way from the top to the bottom. That way it gives your room a lot of height. This makes people feel a lot more comfortable in a room that is typically pretty small.
Light Coloured Bedding
The bedding you choose to put on your bed should be light. If you can't afford a whole new comforter set, get a duvet cover. They are much more inexpensive and will get the job done.
Pop of Colour
With all the light and bright colours from your walls to bedding, a pop of colour helps spruce things up. You want to add accents of your feature color throughout the house, whether it be red or blue, just add a pop of color. Having a feature color helps bring a sense of cohesiveness to the home. Plus, the pop of color adds some character to your home instead of having plain bright colours everywhere.
Mirrors on Opposite Side of Windows
A great trick for small rooms is to put mirrors on the opposite side of the windows. The reason we want to do that is to let the light bounce off those mirrors. Not only does it give it the illusion of being bigger, it also adds a lot more light to a small room.
Throw Carpets on Wood Flooring
A small house with wood flooring does help make a house look bigger. However, wood flooring can also make a house feel very cold. Throw carpets are a great way to add more depth and texture to your room. For example, putting a nice carpet underneath a bed will give it a nice warmness and homeliness you want for your home buyers. Strategically placed in areas around the house, throw rugs and carpets give the house a lot more definition.
Bathroom staging DIY Projects
When you're dealing with a small bathroom, this is one of those places where you should not add a throw rug. It takes up space so when you have home buyers coming in, take them out. If you're dealing with a tiny bathroom, stage it very minimal. Don't put a lot of stuff on the countertops for showings.
If you have a shower and tub combination, the best tip is to buy a shower curtain that goes from the ceiling all the way to the floor. It will make that room feel bigger to home buyers. Make sure it's in a light white, bright color. So that way it adds as much lightness in the room.
If you follow even just a few of these DIY Projects you will add value to your home 🙂
We have helped many families move to Chilliwack Canada. We have the systems dialed to make it as easy as possible for you and whoever will be living in Chilliwack with you!
If you are wondering if you could live in Chilliwack check this video out to see why people live here!
🚨 Subscribe to this channel here: 👇👇👇👇👇👇👇
✅ https://bit.ly/2SikNk6
People are asking question like :
What are the Pros & Cons of Living in Chilliwack BC ?
What Are The Steps To Buying a House in Chilliwack BC ?
Cost Of Living In Chilliwack BC ?
How to Buy A House In Chilliwack BC ?
Best Neighborhood to buy Chilliwack Real Estate ?
Can you explain the home buying process ?
Where can I find the best Chilliwack Real Estate Agent ?
Where can I find Chilliwack Homes For Sale ?
Is Moving to Chilliwack BC a good idea ?
What are the best DIY Projects to improve the sale of a house ?
If you are relocating here to Chilliwack, Fraser Valley or Vancouver areas we can make that transition so much easier on you. So, reach out Day/Nights/Weekends whenever you want, we never stop working for you!!
Chris McRae – McRae Real Estate Group – Top Rated Chilliwack Real Estate Agent
Chris McRae Personal Real Estate Corporation
Homelife Advantage Realty Ltd
📲 Call/Text Direct at 778-888-6566
📲 Email: infomcraerealestategroup@gmail.com
👨‍💻 Website: www.mcraerealestategroup.com
👇👇👇👇👇👇👇👇👇👇👇👇👇👇👇👇👇👇👇👇👇👇👇👇👇
SUBSCRIBE TO THIS CHANNEL HERE:
About Chilliwack:
1)🟢https://en.wikipedia.org/wiki/Chilliwack
2)🟢https://tourismchilliwack.com/